COMMODITY: Small arms ammunition (shotshell, rimfire and centerfire)
SPECIAL: Limited Quantity of Division 1.4S – 50 caliber or less, inert bullets or tracer only
MODE OF TRANSPORTATION: Domestic Road & Rail
NOTE: LQ Ammo by Vessel has the same packaging and package markings as Domestic Ground, but Vessel requires a shipping document.
OVERVIEW
| | | | |
| --- | --- | --- | --- |
| PROPER SHIPPING NAME: | Cartridges, small arms | LABEL: | No |
| IDENTIFICATION NUMBER: | UN 0012 | PLACARD: | No |
| HAZARD CLASS/DIVISION: | 1.4S | EMERG. INFO: | No |
| PACKING GROUP: | None | TRAINING: | Required |
| DOCUMENT: | Yes | PACKAGING: | Special |
| MARKING: | LQ Mark | | |
HAZMAT TABLE

(1)

Sym-bols

(2)

Hazardous materials descriptions and proper shipping names

(3)

Hazard class or Division

(4)

Identifi-cation Numbers

(5)

PG

(6)

Label Codes

(7)

Special provisions

(§172.102)

(8)

Packaging (§173.***)

(9)

Quantity Limitations

(see §§173.27 and 175.75)

(10)

Vessel

stowage

Excep-tions

Non-
bulk

Bulk

Passenger aircraft/ rail


Cargo aircraft only

Loca-
tion

Other

(1)

(2)

(3)

(4)

(5)

(6)

(7)

(8A)

(8)

(8C)

(9A)

(9B)

(10A)

(10B)

 

Cartridges, small arms

1.4S

UN0012

 

 

none

 

63

62

None

25kg

100kg

01

25
PACKAGING INFORMATION
Cartridges, small arms that have been classed as Division 1.4S explosive may be transported as limited quantities when packaged as follows:
Except for 22 rimfire and blank tool cartridges, ammunition must be packed in combination packagings consisting of inside boxes, metal clips or partitions that fit snugly in a securely-closed strong outside packaging; no specification testing is required. No single packages are allowed, i.e. inner packages are required.
Except for 22 rimfire and blank tool cartridges, primers must be protected against accidental initiation by packaging or another cartridge base.
Cartridges for tools, blank, and 22 caliber rim-fire cartridges may be packaged loose in strong outside packagings with or without an inner packaging. Other cartridges may may be similarly packaged when using a special permit.
The maximum gross weight is limited to 30 kg (66 pounds) per package.
Citation: 49 CFR 173.63 (b)(2)
SHIPPING PAPER REQUIREMENTS
Normal documentation requirements are waived when transported by road. This ammo is still hazmat, but it is not marked "HM" on the shipping document because it is not subject to documentation requirements. "Cartridges, small arms" or other identifying information should be listed in the description.
| | | |
| --- | --- | --- |
| HM | DESCRIPTION | WEIGHT/LBS. |
|   | Cartridges, Small Arms | (Insert net explosives weight or net weight) |
Citation: 49 CFR 173.63(b)(1)(i)
CARTON MARKING
Limited quantity packages containing cartridges, small arms must display the limited quantity marking on one side. In addition, each carton may have to be marked with the consignor's or the consignee's name and address, see 49 CFR §172.301(d) for exceptions*. No UN number or proper shipping name is required.

* Per 49 CFR §172.301(d), the package must be marked with the consignor or consignee's name and address unless the package is:
(1) Transported by highway only and will not be transferred from one carrier to the other;
(2) Part of a carload lot, truckload lot or freight container load, and the entire contents of the rail car, truck or freight container are shipped from one consignor to one consignee.
Citation: 49 CFR §173.63(b)(1)(i), 49 CFR §172.301(d) & §172.315 (a)
OVERPACKS
The "OVERPACK" marking is only required if the limited quantity marking is not visible, in which case the "Limited Quantity" and "overpack" stickers are required on one side of the pallet or overpack box.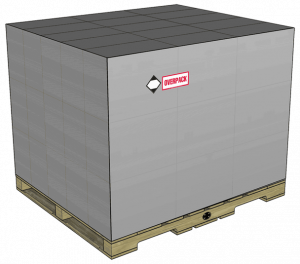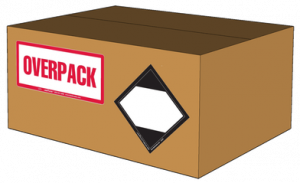 Citation: 49 CFR §173.25(a)(6)